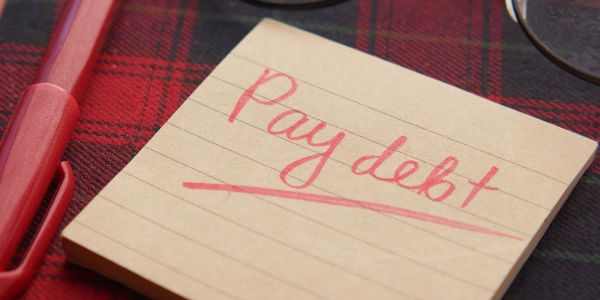 A U.S. News and World Report article, 16 Things to Do When You're Deep in Debt, offers some potentially useful information, including concrete steps that may help you wipe out some of your debt.
If you have a lot of debt, bankruptcy may be an option. In 2022, more than 380,000 Americans chose bankruptcy. While the process may damage your credit, making it harder to get good offers from credit card companies and lenders, it's also a way to make a financial re-start.
You should also note that the bankruptcy process will likely require the services of a bankruptcy attorney.
---
Prioritizing What You Pay
Another step is prioritizing what debt you should pay first. If you can't pay off your debt monthly, you may want to prioritize the debt that's hitting you with the most financial pain.
Focus on paying things like your home and automobile first, followed by things like utilities and debts that can't be discharged like student loans and unpaid federal taxes. From there, you can focus on unsecured debts like credit cards.
---
Negotiate
Analyzing your situation and then chatting with your credit card companies may be helpful. Some companies offer temporary hardship programs that lower interest rates for a short period of time, which dedicates more of your monthly payment to your principal.
One warning here you should be aware of: If you reach out to your credit card companies to discuss your struggles paying what you owe, your credit limit may be reduced.
---
The Avalanche Method
The next step you may want to consider is paying off higher interest rate debt first.
This is called the avalanche method. Let's say you have four credit cards and each of them has significant revolving debt. Using the avalanche method, you'd choose three of those cards and pay their minimums each month.
But with the fourth card — the one with the largest interest rate — you'd prioritize paying as much as possible each month with the goal of paying it off entirely as quickly as you can.
When this card is paid off, you can take that money and dedicate it to the credit card with the next highest interest rate. From there, you simply repeat this method until all four credit cards have a zero balance.
---
Start Small
Conversely, some financial services professionals urge first attacking your credit card with the smallest balance while still paying the minimum on your other cards as a way of quickly eliminating one source of debt.
Once you've eliminated the card with the smallest balance, you can then focus on the card with the next smallest balance.
---
Balance Transfers
The article next explains that transferring a credit card balance may help you get out of debt a little faster.
As a few hours of TV watching makes clear, a lot of credit card companies offer zero percent interest on balance transfers for a window that's often open for 12 to 18 months, to attract new customers.
But you may be able to use this option to your advantage. For example, you can transfer $5,000 to a card that doesn't charge interest during that initial window and then pay it off before that window closes.
But there are some potential traps. For example, you often only qualify for a credit card with zero percent interest on balance transfers if you have outstanding credit. Additionally, you should consider that there may be a potential balance transfer fee, which is often three to five percent of your balance.
---
SOURCES
https://money.usnews.com/money/personal-finance/debt/slideshows/things-to-do-when-youre-deep-in-debt Advisory services offered through Buska Wealth Management, LLC an SEC Investment Advisor. Insurance products and services are offered through Buska Retirement Solutions, Inc., an affiliated company. Buska Wealth Management, LLC's outgoing and incoming emails are electronically archived and subject to review and/or disclosure to someone other than the recipient. We cannot accept requests for securities transactions or other similar instructions through email. We cannot ensure the security of information e-mailed over the Internet, so you should be careful when transmitting confidential information such as account numbers and security holdings. If the reader of this message is not the intended recipient, or an employee or agent responsible for delivering this message to the intended recipient, you are hereby notified that any dissemination, distribution, or copying of this communication is strictly prohibited. If you have received this communication in error, please notify us immediately by replying to this message and deleting it from your computer.