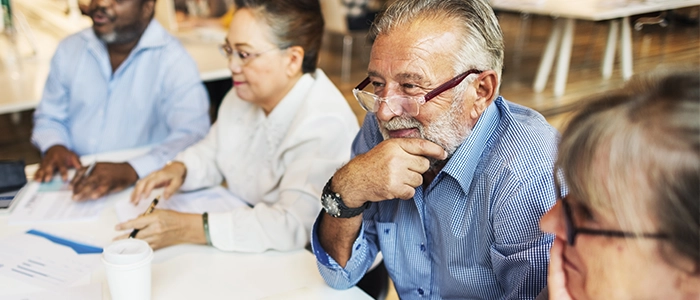 Medicare Simplified Educational Seminars
Navigating Medicare can be confusing - even a little intimidating. Our licensed independent insurance agent has a deep understanding of your available Medicare options and is ready to help find a strategy that's right for you and your wallet.
Attend a 1-hour presentation where we review:
Medicare Parts A and B
Medicare Advantage Plans (Part C)
Prescription Drug Plans (Part D)
Medicare Supplements (Medigap)
This is strictly an educational event. Leave your checkbook at home. Adults only, please no children. Light snacks and refreshments will be provided.
Buska Retirement Solutions, Inc. is not affiliated with or endorsed by the federal Medicare program or any other government agency. WI LIC #17285825. We do not offer every Medicare plan available in your area. Any information we provide is limited to those plans we do offer in your area. Please contact Medicare.gov or 1-800-MEDICARE to get information on all of your options. Calling the number above will direct you to a licensed agent.
Have Questions? Let Us Help!
Medicare Event FAQs
Our goal is to help pre-retirees and retirees so they can enjoy their retirement and the benefits that come along with it. One of the ways we accomplish this is by hosting educational events to discuss top-of-mind topics about medicare in Wausau & Eau Claire, WI.
They typically last one hour.
We will review the history of Medicare, analyze each of the 4 parts of Medicare, and discuss the enrollment period.
Absolutely not. It is a free informational Medicare Educational Event. There is no sales pitch and no pressure to purchase anything.
We recommend you attend if you are turning 65 in the next year.
We ask that you not bring children unless there are no other options. If you must bring them, please make sure they are quiet and do not disturb other attendees.
We encourage you to bring your spouse or significant other. We also encourage you to invite friends who will be turning 65. Please make sure all who are attending are registered so we have an accurate headcount.
You do not need to bring anything with you. Written materials will be provided and are yours to take home for reference. We also provide a pen, a bottle of water, and a light snack.
Your presenter will be Doug Wendt, our Health Insurance Consultant. He holds Wisconsin insurance licenses in Life, Health/Accident with certifications in Annuities and Long-Term Care. He has extensive experience working with people problem solving and finding solutions to best meet their needs. His wealth of knowledge in Medicare and Health Insurance options serves as a tremendous resource for our clients. Doug views himself more as an educator to help look at all options available and simplify was seems to be an overwhelming amount of information.