A Guide to Social Security for Seniors

Whether you're nearing retirement age, have a significant disability or are struggling to meet your basic needs, you may be entitled to Social Security. This federal program includes several different components that can provide valuable financial assistance regardless of your age. Here's what you need to know about eligibility and how to claim your benefits.
What Is Social Security?
The Social Security Administration was created by President Franklin D. Roosevelt in 1935 as part of the Social Security Act. This New Deal-era legislation provided retirement benefits as the nation was recovering from one of its worst economic recessions. Additional components were added over the years, including survivors' payments in 1939, Social Security Disability Insurance in 1956 and Medicare in 1965. Supplemental Security Income, the newest program, was added in 1972. Today, more than 20% of all Americans receive Social Security benefits, including 47 million retirees.
Types of Social Security Benefits
Most people earn Social Security benefits through their work. The program is funded by payroll taxes that are paid by employees and employers. Each party pays 6.2% on income up to approximately $147,000 or a combined total of 12.4% if self-employed. In 2020, Americans contributed over $1 trillion to the Old-Age and Survivors Insurance and Disability Insurance fund. There are also some benefits for individuals, including children, who are disabled or haven't paid into this system.
Social Security Retirement
Retirement benefits are the cornerstone of the Social Security system. Benefits are based on up to 35 years of work history. If you've worked longer, the lowest-earning years will be replaced. You must have at least 10 years or 40 credits of work history, and for most individuals, retirement benefits equal about 40% of their pre-retirement income.
You can claim early benefits starting at age 62, but you won't receive the full amount until you reach age 66. Full Retirement Age is anywhere from age 66 to age 67 and increases in 2-month increments based on your birth year. If you plan to take your benefit early (before your Full Retirement Age), then you are subject to an earnings cap. If you earn above the earnings cap from your employment and are actively receiving your benefit, then Social Security will withhold $1 of your benefit for every $2 you earn over the cap. The earnings cap in 2022 is $19,560 per year except for the calendar year that you reach your full retirement age. Then the earnings cap increases to $51,960 for the calendar year. Once you reach your full retirement age, you can earn as much as you like with no earnings cap.
If you choose to delay taking the benefit when you're eligible at age 66, it grows 8% from your full retirement age to age 70, at which point there's no further increase.
Social Security Disability Insurance
Social Security Disability Insurance (SSDI) is available to individuals who meet medical requirements and have a sufficient work history. To be considered disabled, you must have a medical condition that affects your ability to perform daily activities for at least 12 months or may result in your death. The SSA also provides a list of qualifying medical conditions., such as Lou Gehrig's disease, or ALS. Additionally, the beneficiary must have at least 40 work credits, including 20 earned in the last 10 years. Workers can earn a maximum of four credits per year based on qualifying income.
Supplemental Security Income
Supplemental Security Income (SSI) provides a monthly cash benefit to individuals who have limited income and assets. It's available to individuals who don't qualify for Social Security Disability Insurance based on their work history, including seniors, children and those who are blind or disabled. These payments are designed to help beneficiaries with the cost of food and shelter. SSI recipients may also be entitled to Medicaid.
Survivors' Benefits
Survivors' benefits are available to spouses, school-aged children up to age 18 or 19 and some parents who have dependent children. Qualifying individuals receive at least 71.5% of the decedent's monthly benefits or up to the full amount if the qualifying widow or widower has reached full retirement age. The earliest a surviving spouse can claim a benefit is age 60. They will be subject to an earnings cap on earned income. So if a surviving spouse plans to continue working, their benefit could be affected by their earned income. The Social Security Administration also provides a lump-sum death benefit of $255 to a surviving spouse or child.
Spousal Benefits
Spousal Benefits are for beneficiaries whose benefits are less than 50% of their spouse's benefit at full retirement age (either from working or earning less in their career or perhaps staying at home to raise children). For example, if Jane's benefit is $2,000/month at her full retirement age and her husband John's benefit is only $600/month at his full retirement age, then John is entitled to receive $1,000/month in Social Security spousal benefit in place of his own work record. The higher-earning spouse must be actively taking their benefit to "unlock" the spousal benefit for the lower-earning spouse.
Supplemental Security Income vs. Social Security

How Does the Social Security Administration Calculate Retirement Benefits?
Social Security retirement and disability benefits are based on up to 35 years of average monthly income assuming that your earnings are subject to Federal Insurance Contributions Act taxes or Self-Employed Contributions Act taxes.
Normally, employees contribute 6.2% of their gross wages to Social Security and an additional 1.45% for Medicare. For self-employed individuals, the combined total of 15.3% represents the amount paid by employees and employers.
Earnings over $147,000 (for 2022) aren't subject to these taxes, so if you're in a high income bracket, your retirement benefits won't increase after a certain point. For 2022, the maximum Social Security benefit for an individual at full retirement age is $3,345.
Annual Cost of Living Increases
To protect beneficiaries from inflation, the Social Security Administration adjusts retirement, disability and SSI benefits annually based on the cost of living. Potential increases are based on the Consumer Price Index for Urban Wage Earners and Clerical Workers from the third quarter of the previous year. In 2022, the cost-of-living adjustment was 5.9% starting with checks issued in January. This equates to an expected monthly increase of $200 for the average beneficiary. In the past few decades, annual increases have ranged from 0.0% to 3.5%.
What's the Average Income for Seniors on Social Security?
According to the Social Security Administration, approximately 90% of seniors aged 65 and older are eligible for Social Security. On average, these benefits account for 30% of seniors' annual income. However, about 12% of men and 15% of women have little to no other retirement income.
As of January 2022, the average monthly benefit is $1,658, up from $1,555 in 2021. Due to wage disparities and other factors, women earn slightly less than men. In 2019, the average annual benefit was $17,374 for men and $13,505 for women. However, women tend to live longer, so they may receive more lifetime benefits.
How Much Does Social Security Pay?
Social Security benefits are determined by several factors, including your work history and retirement age. Here are some averages based on national data. For a more personalized look, try a Social Security calculator, or create a My Social Security account to review your work history and estimated benefits.
The age you retire plays a big role in determining the size of benefit you can expect. Below you can see the maximum monthly benefit based on the age you retire: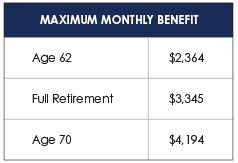 What Is the Full Retirement Age for Social Security?
The table below shows the age you collect depending on the year you were born.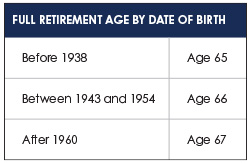 It's worth noting that FRA increases in 2-month increments for birth dates from 1955 to 1960. Also, due to increasing life expectancies, the Social Security Administration recently increased the full retirement age for workers born after 1959 to age 67. Anyone who has 40 work history credits can begin receiving retirement benefits at age 62, although your monthly payments will be permanently reduced.
If you wait until your FRA, which varies by your date of birth, your monthly benefit could be 25-30% larger. For those who aren't ready to retire, your benefit can increase by an additional 8% per year if you delay your retirement until age 70, at which point there are no further increases. This table shows when you can begin receiving full benefits.
What Age Should You Claim Social Security?
Deciding when to declare your retirement is a big decision, and it's based on a number of factors that vary from person to person. Things to consider include your health, monthly expenses, existing income, and other retirement accounts. Here are a few guidelines.

Maximizing Your Social Security Benefits
Retirement is a big part of financial planning, and a growing number of professionals are available to advise seniors who are ready to step into the next phase of their lives. Requesting personalized guidance from an accountant, financial advisor or accredited Social Security consultant is preferable whenever possible. However, here are some strategies that have worked well for others.
Retirement is a big part of financial planning, and a growing number of professionals are available to advise seniors who are ready to step into the next phase of their lives. Requesting personalized guidance from an accountant, financial advisor or accredited Social Security consultant is preferable whenever possible. However, here are some strategies that have worked well for others.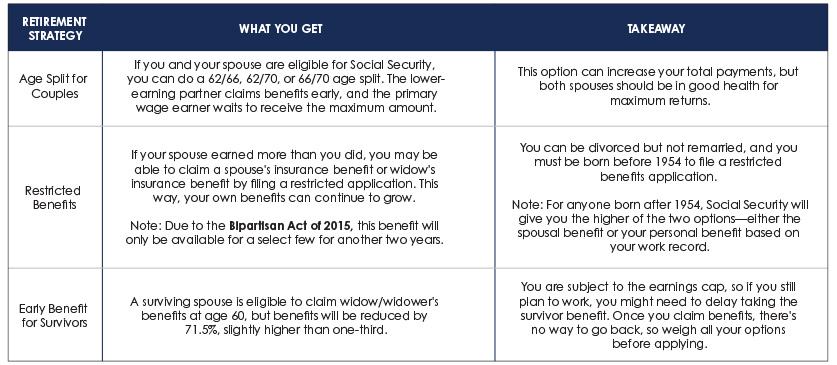 How to Sign Up for Social Security
The easiest way to estimate your payments and sign up for benefits or check the status of your application is by creating a My Social Security account at SSA.gov. Applications can also be submitted over the phone by calling (800) 772-1213. The helpline is open Monday through Friday from 8 a.m. until 7 p.m. Alternatively, you can locate your local SSA office to apply in person. Offices could be temporarily closed due to Covid, so you may want to call or check the website before visiting in person.
If you're having trouble claiming benefits or if your application has been denied, consider contacting an attorney for personalized advice and assistance. Free legal advice is available for those with limited means, so don't hesitate to reach out.
Collecting Social Security Overseas
In most cases, you can continue collecting Social Security benefits earned in the United States even if you're living overseas. Extra steps may be required before the government can send payments to beneficiaries in certain countries, such as Azerbaijan. A number of special rules may apply if you're a non-U.S. citizen or are receiving survivors' benefits. For additional guidance, see the SSA's guide Your Payments While You Are Outside the United States.
Additional Social Security Resources
Social Security Administration   (800) 772-1213
If you have questions about benefits, call the Social Security Administration directly. Your local office can also refer you to interpreters, free legal help, and other community-based resources.
---
AARP   (888) 687-2277
AARP provides a variety of free tools to answer your questions and help you calculate estimated benefits. You can also submit a Social Security question to AARP's experts.
---
Legal Services Corporation   (202) 295-1500
LSC is a government-sponsored nonprofit that funds more than 130 legal aid programs nationwide. This agency can help you find free legal assistance in your area. Most seniors aged 60 and older qualify for help with Social Security and other government benefits.
---
3AFAMAC Foundation   (888) 750-2622
This nonprofit employs a group of accredited National Social Security Advisors who are trained to assist current and prospective retirees. The organization's goal is to support and educate the nation's seniors.
---
SOAR Works   (518) 439-7415, Ext. 2
SOAR Works helps individuals qualify for SSI or SSDI benefits thanks to support from the Substance Abuse and Mental Health Services Administration. Services are available to veterans, disabled adults and other individuals in need.
---
Garret Planning Network   (913) 268-1500
Featured by Bloomberg, Kiplinger, Forbes, the Wall Street Journal and many others, the Garret Planning Network connects seniors to qualified fee-only Social Security advisers who don't charge commissions or require a long-term commitment.
---
Warrior Care Recovery Coordination Program   osd.warriorcare@mail.mil
Warrior Care supports service members who are injured, ill or disabled. It provides benefits and compensation handbook along with information about SSA and VA disability evaluations.
Information has been provided by: Caring.com
---
Monday
9:00am - 5:00pm

---
Tuesday
9:00am - 5:00pm
---
Wednesday
9:00am - 5:00pm
---
Thursday
9:00am - 5:00pm
---
Friday
9:00am - 4:00pm
Buska Retirement Solutions