Guide to Avoiding 401(k) Rollover Mistakes
Have you recently left or lost your job? If you had a 401(k), a rollover might be right for you. However, there are many rules you need to be aware of to avoid costly tax penalties.
Make it easier with our complimentary guide to avoiding 401(k) rollover mistakes.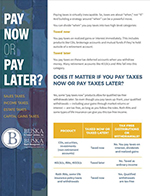 Taxes and the Power of WHEN
Concerned rising government spending might mean higher taxes? Good news! While taxes aren't optional, you may have choices about WHEN you pay them. And WHEN can be a powerful tool.
---
Monday
9:00am - 5:00pm

---
Tuesday
9:00am - 5:00pm
---
Wednesday
9:00am - 5:00pm
---
Thursday
9:00am - 5:00pm
---
Friday
9:00am - 4:00pm
Buska Retirement Solutions